For the last eight months I have been using Freeletics and more recently Madbarz to guide my workouts. Both are apps that you can download for iOS and Android and that give you a list of workouts to follow.
The six years before that I went to the gym more or less regularly and somewhat enjoyed going there. While I am good at motivating myself to work out I became frustrated with how much time went into getting to and back from the gym (although it was relatively close by).
I signed up to Freeletics in late 2014 but didn't start using it until some time in February. After a short fitness assessment the Freeletics coach (most likely a machine learning backed system) gives you a per week training schedule. Depending on your performance during the week the coach will increase the intensity.
The first few workouts were incredibly intense and easily brought me to my limits. At the time I was training for a half marathon, so I was definitely in good shape, but the exercises performed in the Freeletics workouts require a completely different endurance than long distance running. As the first few weeks went by I kept improving my performance and focussed a lot on correct execution of every single repetition. The workouts became a lot easier and more fun.
Freeletics is slowly becoming a hype so it is easy to find local groups that train almost every day. I managed to find groups in Tübingen (where I lived), Paderborn (where I live now) and later in Vancouver, Canada and San Francisco (during travel). It has become a great way for me to meet new people with a common interest.
In addition to Freeletics I more recently started using MadBarz - an app that still has its flaws but lets you create your own workout routines. I'm sometimes not in the mood to do the workout the Freeletics coach has planned for me and replace it with one of my own MadBarz workouts. MadBarz is planning to revamp the app in mid-November this year and launch Pro early 2016.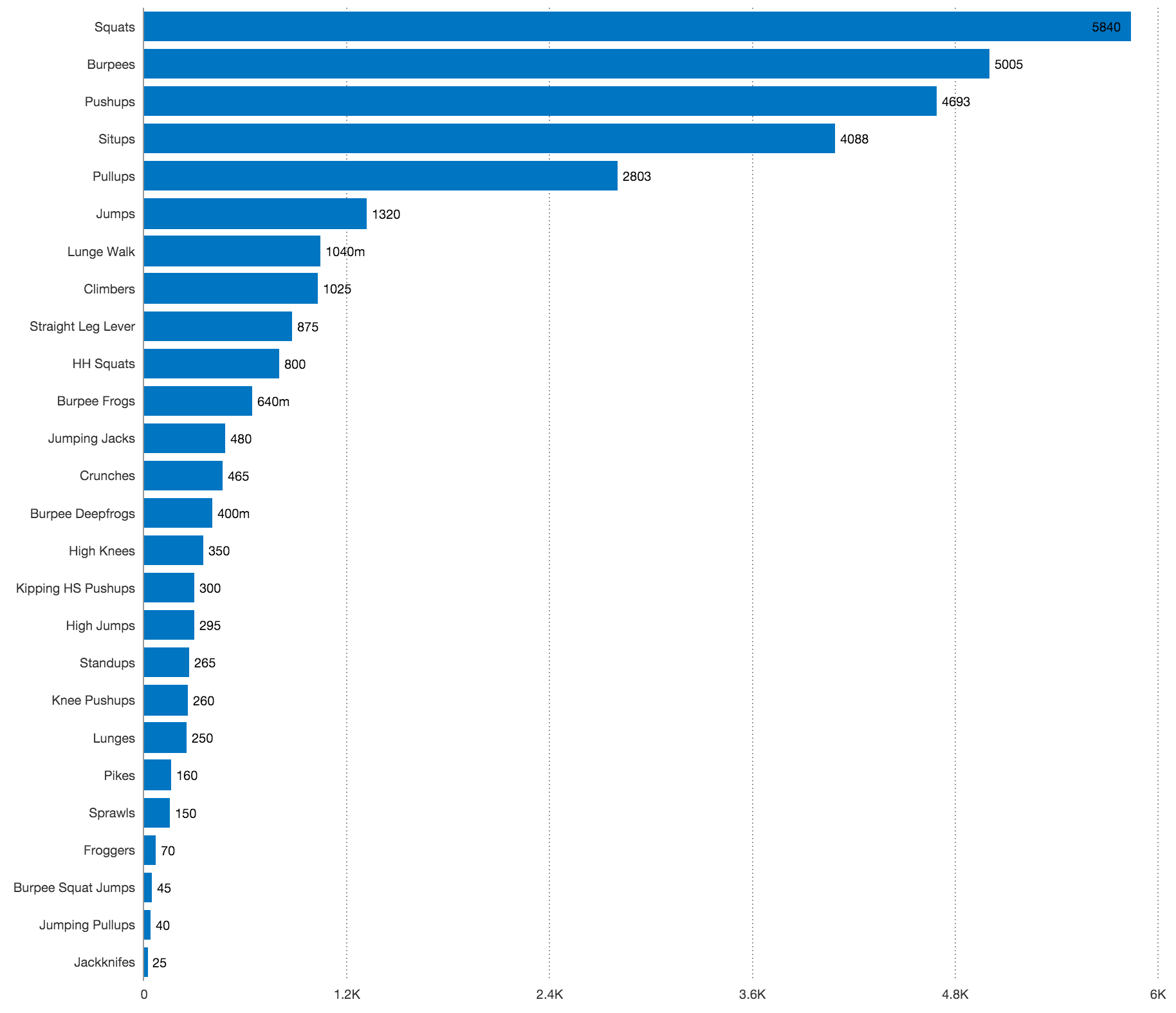 The graphic above is a summary of all Freeletics workouts I have completed since February (credits to freeleticstats for the graphic).
Apart from the obvious increase in fitness I have found both apps to be incredibly motivating in pushing me to the next level. Both apps come with a simple point system which - especially for casual gamers like me - gives a great incentive to add "just a few more reps" to catch up to a friend.
Follow me on Freeletics and MadBarz